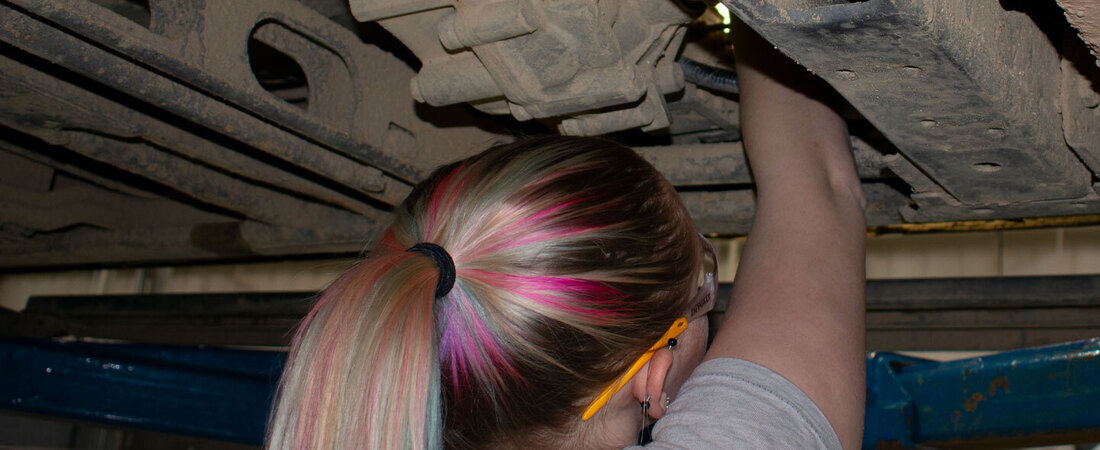 Automotive Technology
Automotive Technologies combines hands-on wrenching, problem solving, and book work to help you become a mechanic. Upon leaving you will be able to work on your own car or go straight into working in a shop to build your skills even more.
With a fully immersible shop at the MACC, you will have a majority of the tools and machinery you will need to learn how to repair and maintain an automotive vehicle. While in the automotive program, you will have the opportunity to do the state testing, and seniors will have a potential to earn the ASE student certificates.
With this program you will:
Earn up to 18 certifications before you leave
Get discounts on parts as a student
Learn how to use each tool
Become a mechanic straight out of high school
Participate in hands-on work
Get a chance to work on your own vehicle if you're ahead in class
What You Will Do
Maintain, repair, and fine-tune a wide range of vehicles alongside an ASE Master Technician in a full-service automotive center.
Utilize tools and diagnostic equipment in a modern facility to troubleshoot and repair complex automotive systems.
Work independently and in teams to optimize vehicle operation and performance using critical thinking skills.
Automotive Highlights

Earn Certifications
As a student you have the opportunity to earn Snap-On Meter Certificates, the ASE Entry-Level Certificates, and state certifications. These will show employers your skills!

Great Future Knowledge
This is a great class to take even if you don't want to be a mechanic; the skills you learn at the Montcalm Area Career Center will be useful in your future or as a hobby.

Notes and Testing
Although most of the class is in the shop, be prepared to spend time time in the classroom doing book work, presentations, and tests!

Operate Professional Machinery
You are given the opportunity to use professional standard machinery to learn how to become a real mechanic. Learn to operate a 2 post lift, engine lift, tire balancer, and more.

Safety Comes First
Safety is very important at the MACC. Safety glasses are provided, and they must be worn at all times in the workshop.

Work on Your Own Vehicle
Class periods don't always have to be focused on other people. You are welcome to bring your car in and work on it while you're in school! It's a great opportunity to have the instructor's support while working on it!

Work With Real Customers
In the fully operable shop, you are the mechanic. You'll work on customer cars just like if you were working for an actual automotive shop.
What Students Are Saying
I came into auto with no experience on how to work on a car. Now, I can tell what is wrong with a car and fix it. —Anonymous
I have always liked coming here because I always have fun and the teachers are great! —Anonymous
I learned how to work on cars with other people in a team effort. —Gabe
I like that I was able to bring in my own vehicle to work on. —Anonymous
I loved feeling independent and being able to do stuff on my own. —Anonymous
I like the auto class so much that I don't want to leave. —Dominic
Todd Ballard