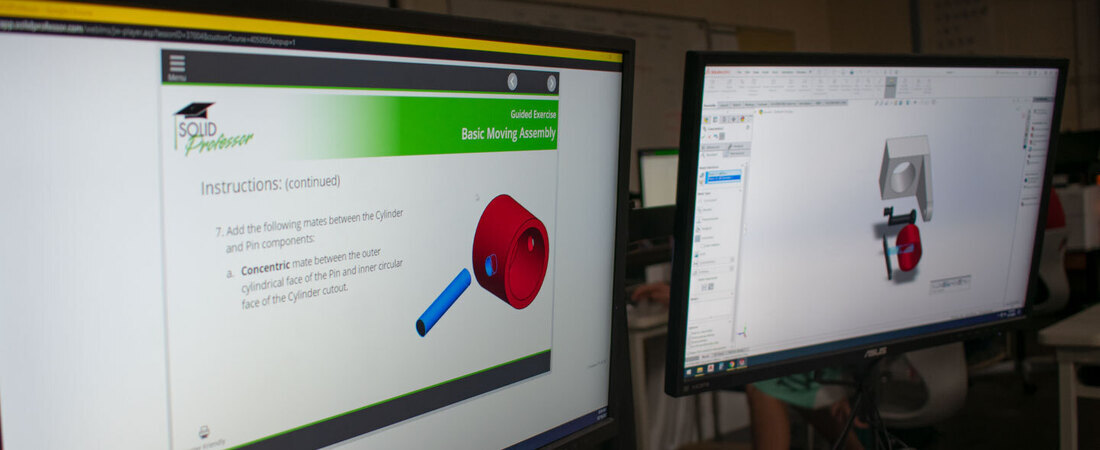 Computer Aided Drafting & Design (CAD)/Engineering
In this program, you will learn about both Computer Aided Drafting and Engineering; this involves hands-on activities like coding, 3D printing, robotics, and much more.
With this program you will:
Learn how to work as a team and troubleshoot together
Show your creativity through personal designs
Gain college credits paid for by your school
Get your senior math credit through the CAD program
Get a small taste of everything you can do with a career involving CAD
Experience careers as a video game designer, robotics technician, electrical engineer, 3D designer, animator, etc.
Computer Aided Drafting & Design
In CAD, you will work together with other classmates, or alone depending on the project, to draft and model your creations. With the abundance of tools and machinery, your creativity can come to life. Problem solving is huge for CAD students. As a student, you will learn how to troubleshoot a variety of problems, giving you real world experience in a friendly environment.
Engineering
In Engineering, inside of the shop, you will build catapults, suspension bridges, electric cars, and a variety of other projects. You will learn how to research, fabricate, and test many projects for competitions. You will use advanced mathematics, chemistry, and physics to solve your complex engineering projects.
CAD - What You Will Do
Turn ideas into products using the same design, drafting, and 3D modeling as professional architects and engineers.
Work independently and in teams to research, develop, implement, and demonstrate prototypes.
Invent unique solutions to complex engineering and architectural challenges.
Engineering - What You Will Do
Explore and experience a wide range& of innovative projects such as catapults, suspension bridges, and electric cars.
Work as individuals and teams to research, design, fabricate, and test unique engineering projects for competitions.
Find creative solutions to complex engineering challenges using advanced mathematics, chemistry, and physics.
CAD & Engineering Highlights

Earn College Credits
Save money while you attend; for attending, you'll gain articulated credit, credits earned through certain classes in high school. Your senior math credit is covered by CAD.

Attend Competitions
As a CAD student you'll be given the opportunity to compete in a variety of competitions.

Let Your Creativity Fly
Design is a huge aspect to this program, you'll gain knowledge about robots, remote cars, house blueprints, 3D printed trinkets, and much more.

Learn How to Troubleshoot
With technology, there comes issues; learn how to work around them with programs and applications you will use in this profession with your peers.

Use a Variety of Professional Machinery
You will have the opportunity to have hands-on experience and will use a wide range of tools for 3D printing, coding, and much more.

Make Friends
Most students have similar interests in the CAD program, so making friends is a piece of cake!
Opportunity to Grow Your Skills
Whether you are interested in technology, video games, robots, or animation, this program will help you enhance your skills.
What Students Are Saying
Because of you, and your persistent teaching ways, I finally gained a bit of confidence in myself. You showed that I did have it in me to succeed. —Anonymous
I liked the wide range of things that we did in the class, and how it helped you to find something that you enjoy doing. I also liked that we were mostly independent, just being told what to do and to ask questions if you need help. —Anonymous
I liked how Mr. Johnson looked out for everyone and gave us reminders as to what we still need to work on if we're unsure. —Anonymous
The program has everything I expected it to have and more. The addition of inviting industries to teach us new skills is something that would be very helpful in the long run. —Conner
I liked how the instructor was honest with us and told us what and why we were doing something wrong. —Anonymous
In the beginning of the year, I didn't like how many assignments were assigned at once. I eventually liked how it allowed me to switch back and forth between tasks and not get bored of one. —Anonymous
Mike Johnson
CAD & Engineering Instructor