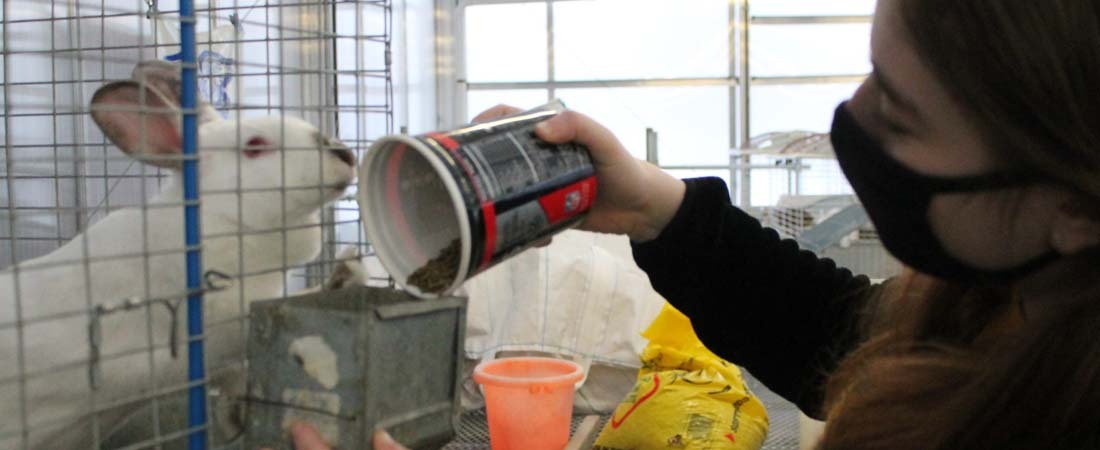 Agriscience
The MACC Agriscience program is more than just plants and animals. It's about learning where your food comes from and how to grow it. It's also a great program to see if a career in agriscience is for you while learning leadership skills and meeting new friends though Montcalm's only FFA chapter. MACC Agriscience can help bring your future into focus.
With this program you will:
Learn that 80% of jobs require some agriculture
Learn how each animal/plant is cared for differently
Be awarded with two certifications
Have second year internship opportunities
Take part in national conventions (only chapter in Montcalm county)
Earn a state degree in FFA
What You Will Do
Explore a wide variety of experiences related to agriculture, animal science, horticulture, soil conservation, and veterinary medicine in a real-world lab.
Pursue leadership and scholarship opportunities through service learning projects and FFA.
Grow plants and animals to create consumable products.
Program Highlights

National Conventions (only chapter in Montcalm County)
In Agriscience, the FFA is a big part of the program, as you get to go to conventions and learn leadership skills, teamwork, and more about agriculture.

Second Year Internship Opportunities
In your second year of being at the Career Center, you have opportunities to apply for an internship. Agriscience is one of the programs that helps you further your education and your knowledge about the different career paths.

Scholarship Opportunities
By taking this class, you have an opportunity for scholarships through service learning and FFA.

Plant and Animal Science
In the classroom, you get to learn about the anatomy of both plants and animals.

Learn to Take Care of Plants
In the classroom, you learn about plants and how to properly take care of them.

Hands-on Learning
While there is still classwork with books and presentations, there is also a lot of hands-on work where you are able to experience what you'd be doing in the field of agriscience.

Learn to Take Care of Animals
In the classroom, you learn about animals and how to properly take of them.
What Students Are Saying
The animals are great, the people are amazing, but the experiences and memories are unforgettable. —Zoey
Coming to the Career Center gave me opportunities I wouldn't have had otherwise. —Autumn
This class isn't just about getting dirty and animals. It is about the people and amazing experiences you make along the way. —Lexie
The Career Center has allowed me to learn skills I would not have been able to at my home school. —Maddy
After being educated about the Career Center and talking to others who had attended, I decided that I wanted to pursue nontraditional career training. I wanted to prove that a 4.0 student who plans on attending college for eight more years could benefit from the career center. This was the best decision I've made so far. The career center has benefited me substantially. It has provided me with knowledge, skills, experiences, and opportunities, but most importantly, it has helped prepare me for my career and gave me personal growth. —London
Amanda Sturm