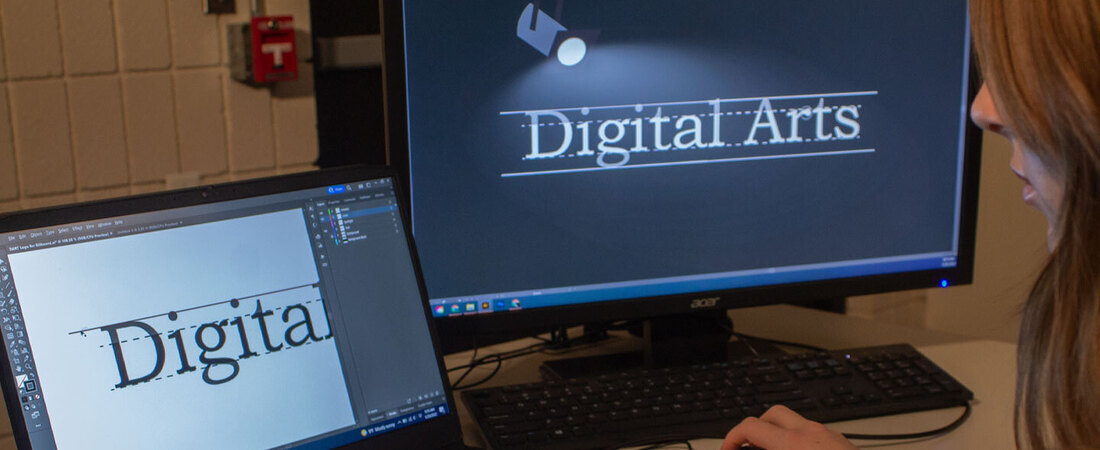 Digital Arts
In the Digital Arts Program, you'll learn how to become an expert photographer, videographer, digital designer, website designer and many more. This program will help build many real life skills to pursue your artistic career.

By joining the digital arts program at the Montcalm Area Career Center, you'll grow yourself as a person. You will become familiar with some of the Adobe applications such as: Adobe Illustrator, Photoshop, Premiere Pro, and After Effects. While attending, your Adobe package will be fully paid for by the school, giving you access to ALL of the Adobe applications. Building websites through Weebly and WordPress is also included. You will design logos, billboards, and much more through this program as well. Essential photoshop skills are taught right here at MACC. For the two years of attendance, you'll also earn college credits directly from Montcalm Community College. In the first year, there's a chance to get 9 credit hours (3 classes) which are also paid for by your school! In the second year, you have the opportunity to gain 12 credit hours (9 classes), meaning if you take the full two years of Digital Arts you'll graduate with 21 credit hours (7 classes) for FREE!
With this program, you will:
Earn direct college credits through Montcalm Community College
Gain access to the Adobe Creative Cloud for free
Build a portfolio
Lessons are adapted to your interests
Be treated like an adult
Work with real clients
Meet real professionals in the field
Build confidence in yourself and your work
Learn good time management
Gain public speaking skills
Basic computer skills are needed for this class
In Partnership with Montcalm Community College
This program is a partnership between Montcalm Area Career Center and Montcalm Community College. Students will take two digital arts classes at MCC per semester. On the days students are not in a college class, they will be at the Career Center learning web page design, videography, project management, web page writing, and many other skills related to photography and graphic design.
Students can take this program for one or two years. They will take four college classes per year, so they could leave the program with eight college classes total. That would leave a student three classes shy of a digital arts certificate at Montcalm Community College.
Program Highlights

Professional Fridays
Most Fridays consist of bringing in professionals from the DART industry or any similar industry who give advice, tips, and tell stories. You may ask any questions needed to help your brand; they don't bite!

Earn Direct College Credits
During the 1-2 years you spend in this program you'll earn free college credits! For one year of attendance you'll earn 12 credit hours and for two years, 21 credit hours! That's 4 or 7 FREE college classes just by coming to the MACC.

Build Your Portfolio
Here at the MACC you'll build a ton of experience on your portfolio, from doing student interviews, designing logos, building websites, and doing product photograph
Gain Public Speaking Skills
As a student, you will be asked to do things that are out of your comfort zone, this will help you succeed. You will work with the other teachers, students, and real clients.

Learn Time Management
Digital Arts comes with many staggered deadlines that you have to manage yourself; joining this program helps you find a balance between your home, work, and school life.

Operate Professional Tools
Whether you bring your own laptop, camera, or any other equipment, you'll further your knowledge on it. But, if you don't have your own equipment, MACC has everything you need to be successful.

Adaptation to Your Interests
The class adapts to your learning; if you have a suggestion for someone to come in, or if you just want to learn about something that's not being taught, just ask!
Duane Weed