MTSS Coaching Support Model
The Montcalm Area ISD MTSS Coaching Support Model fully integrates our organizational structure, coaching service delivery plans, communication plan, and team agendas and enables our team to monitor efficiency and services provided to our LEAs.
Our MTSS coaching team focuses on areas of need and provides appropriate support to district, building, and grade level teams and PLCs based on data from the District Capacity Assessment, Regional Capacity Assessment and building level TFIs and individual working agreements with the LEAs.
Coaching Roles and Definitions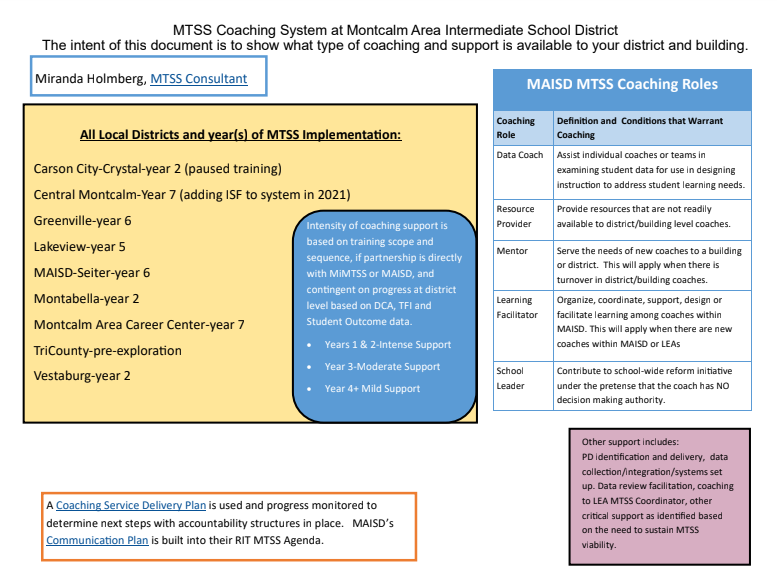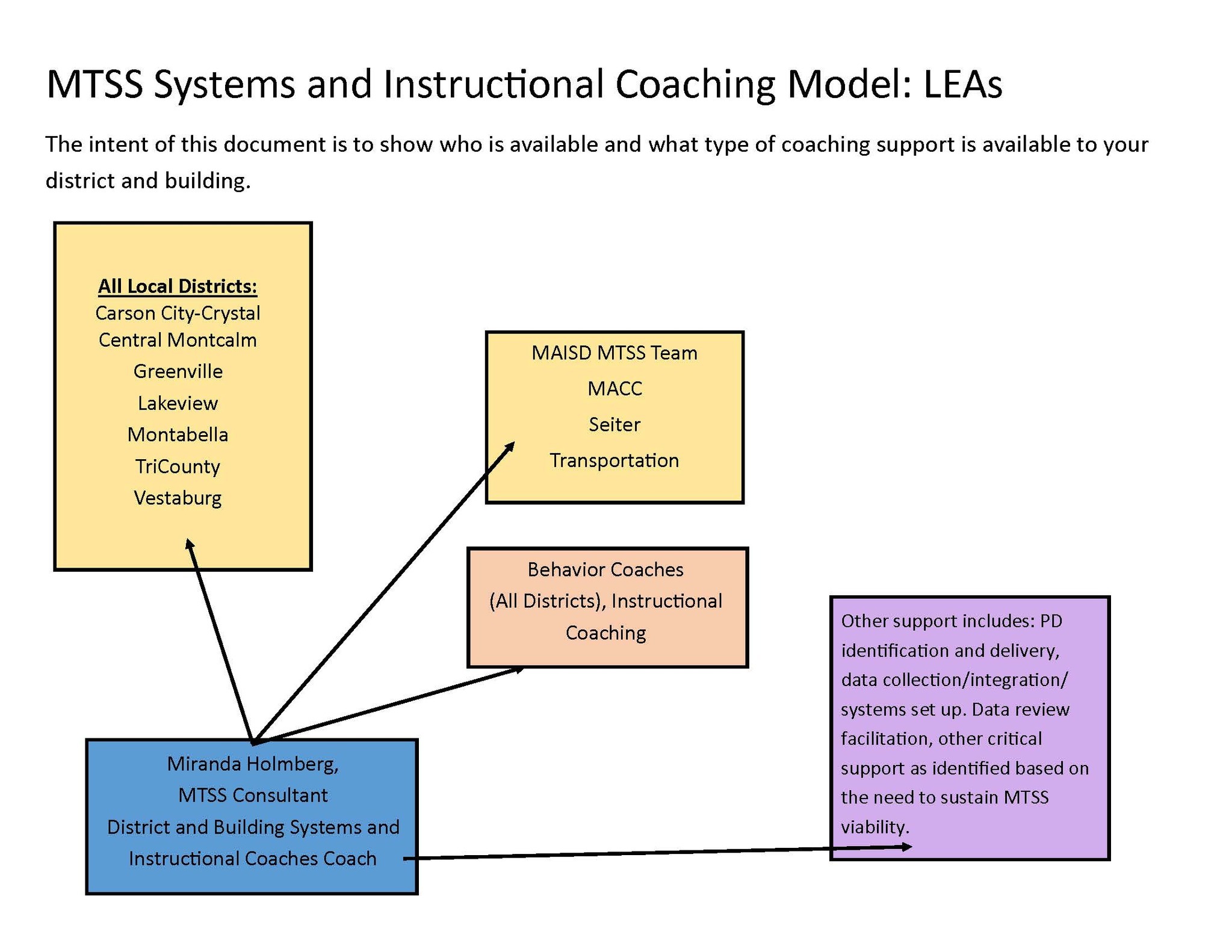 Prerequisite Knowledge, Responsibilities & Guidelines for Selecting Coaches: Internal & External
Participate in and support the success of

MTSS

related activities within the local schools through instructional coaching in the areas of literacy and behavior, attending leadership meetings, coaching trainings, implementation team meetings and

staffings

.
Promote the value of students maintaining their least restrictive placement and succeeding in the general education environment through coaching.
Demonstrate excellent leadership and communication skills.
Demonstrate effective interpersonal communication skills that build trust and relationships among all stakeholders to support implementation and use of a

MTSS

model and the problem-solving process with fidelity.
Assist school staff with appropriate data collection methods, evaluation of the data, and participate in the problem-solving process.
Model and coach district staff in the use of evidence-based Instructional and/or classroom management practices.
Recommend and coach staff related to implementation of adaptations, accommodations and modifications to the general education curricula to include assessments, pedagogy, and learning environments to increase student engagement and outcomes.
Promote the acquisition and knowledge of

PBIS

and its benefits to the achievement of all students as it is embedded in a

MTSS

framework.
Assist learning through collecting, analyzing and using data for decision making to ensure the use of behavioral data in the problem solving process and support communication of this process to all team members.
Coach and provide support to teams through on-going technical assistance for functional behavior assessments and the use of assessment in designing effective behavior intervention plans (

BIPs

) when appropriate.
Strive to maintain and improve professional competence by staying up-to-date with current research and practices by attending pertinent conferences when available.
Provide training, consultation, and support to local school and district personnel in alignment with Multi-Tiered System of Supports (

MTSS

) practices.
Work collaboratively to eliminate barriers to the continuous improvement process and promote systems that increase student growth and achievement.